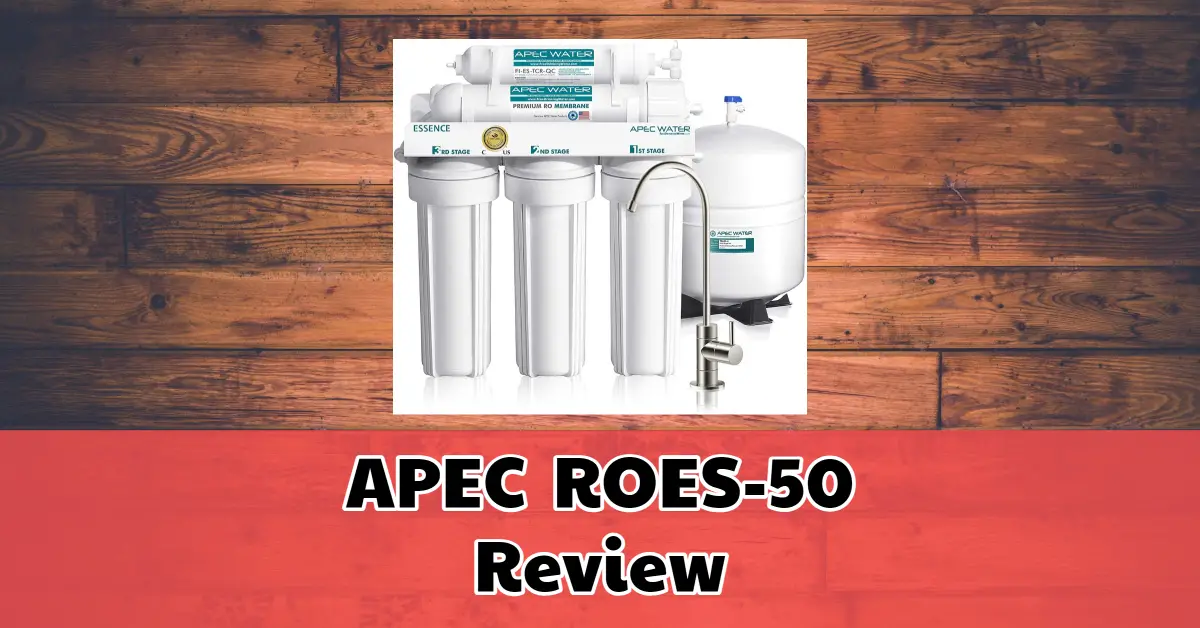 In this APEC ROES-50 review article, you'll get all the detailed information about this reverse osmosis system.
Advanced Purification Engineering Corp. (APEC), based out of California, With over 20 years of expertise, is a prominent manufacturer of reverse osmosis water filtering equipment. Their products are used to solve water issues in a variety of residential, commercial, and industrial settings all around the world.
APEC systems are proudly created, engineered, and assembled in United States laboratories, where they are thoroughly inspected and tested before delivery.
APEC ROES-50 is the most popular, affordable under sink RO system that has a plenty of positive customer reviews. It is basically a 5 stage filtration system with 50 gallons per day filtration capacity. This system is able to remove 99% of harmful contaminants from water. 
APEC ROES-50 reverse osmosis system provides you bottled-quality drinking water from your kitchen tap. This is super affordable reverse osmosis system available in the market.
APEC ROES-50 Overview:
The WQA Std 58 Gold Seal indicates that the APEC ROES-50 has been tested for material and part safety, structural integrity, and contaminant rejection performance. This is a notable achievement, and once you see everything this system has to offer, you'll see why it deserves the Gold Seal.
This device filters water over five stages. 
1st Stage: It contains high quality 5-micron sediment filter. It can easily remove dust, rust, sand and other visible macro particles from water.
2nd & 3rd Stage: This is combo filtration stage which contains 10 micron activated carbon filter that is capable to remove residual chlorine, odor, cloudiness & other chemical contaminants from the water.
4th Stage: It is the heart of the system that contains 0.0001 micron pore size membrane that can remove dissolved contaminant called total dissolved solids from water. It can also remove heavy metals like lead, copper from water.
5th Stage: This is final polishing stage. Where drinking water gets polished and becomes tasty and odorless, stored in the storage tank.
List of the contaminants APEC ROES-50 can remove:
Arsenic
Bacteria
Barium
Cadmium
Chromium
Copper
Fluoride
Lead
Radium
Selenium
Viruses
Efficiency:
With a wastewater to clean water ratio of 3:1, this reverse osmosis filter is deemed efficient. While you may think that a water filter squandering 3 gallons of water is inefficient, consider that other types waste up to 20 gallons or more to generate the same amount of water.
When it comes to RO systems, the ratio must be less than or equal to 4:1 to be called efficient. This system is above-average efficient, with a 3:1 ratio.
Using an effective RO filter is not only beneficial for the environment since you waste less water, but it is also more cost effective in the long term.
Quality of Filters:
The water filters are extremely effective, removing up to 99 percent of the pollutants that are commonly found in water. They can be used to treat both well and city water.
The filters are simple to replace, and a full set of filters is quite inexpensive. The fourth filter is the reverse osmosis membrane. Only particles smaller than 0.0001 microns will pass through the membrane and remain in the water. You can rest assured that the majority of pollutants, including pharmaceutical medications and hormones, will be washed away.
Depending on the water source, the filters should be replaced every 6–12 months of continuous usage, and the reverse osmosis membrane should be replaced every 2–3 years.
It's more expensive to replace the reverse osmosis membrane than it is to replace a full set of regular filters, but that's to be anticipated because it's the most crucial component in the entire filter.
APEC ROES-50 Installation:
The APEC Top Tier 5 Step includes all of the necessary installation components. When you start the installation, you should have a drill, a Phillips screwdriver, and an adjustable wrench on hand.
It's possible that you'll have to drill a hole in your counter to install the faucet. A 1/2″ bit is also required. Remember that if you want to drill into a marble or granite counter, you'll need to purchase a diamond tip saw first.
You can start installing the sink/counter once you've drilled a hole in it. This step is rather simple, and anyone with basic DIY abilities should be able to do the installation in within an hour.
Don't worry if you don't have much experience doing things on your own. The instructions are well-written and will walk you through the installation step by step.
Check watch the video instructions online if you're not sure what you're doing or if you're stuck. They can be really beneficial.
Remember that after the unit is placed, you'll be able to use it for at least 6 months without needing to make any changes, so take your time. There will be no leaks or other issues if the unit is installed correctly.
APEC ROES-50 Manual:
Click here to get APEC roes-50 manual.
APEC ROES-50 Specifications:
Water Pressure: 40-85 psi
A pressure booster is necessary if the pressure is less than 40.
Water Temperature: 40-100 F (4-38C)
Capacity: 50 gallons per day based on 60 psi and 77 deg F conditions.
Storage Tank Capacity: 4 gallons
Max TDS: 2000ppm 
System Dimensions: 16″w x 5.25″d x 17.5″h (Fits most under-sink cabinets)
Pros
Easy to Install 
5-stage filtration system
4-gallon water storage tank
High quality long lasting filters
Super affordable 
Lead-free chrome faucet
Cons
Long Filling Time
Faucet Could Be Improved
indicator isn't provided for filter replacement requirement
Final Verdict:
In the United States, the APEC ROES–50 is one of the most popular RO filter systems.
Overall, It is the best budget friendly and value for money product. The APEC ROES-50 is an above average water filtration system and I highly recommended this product.
Hope, you enjoyed the APEC ROES-50 review and got all the important information about this model.