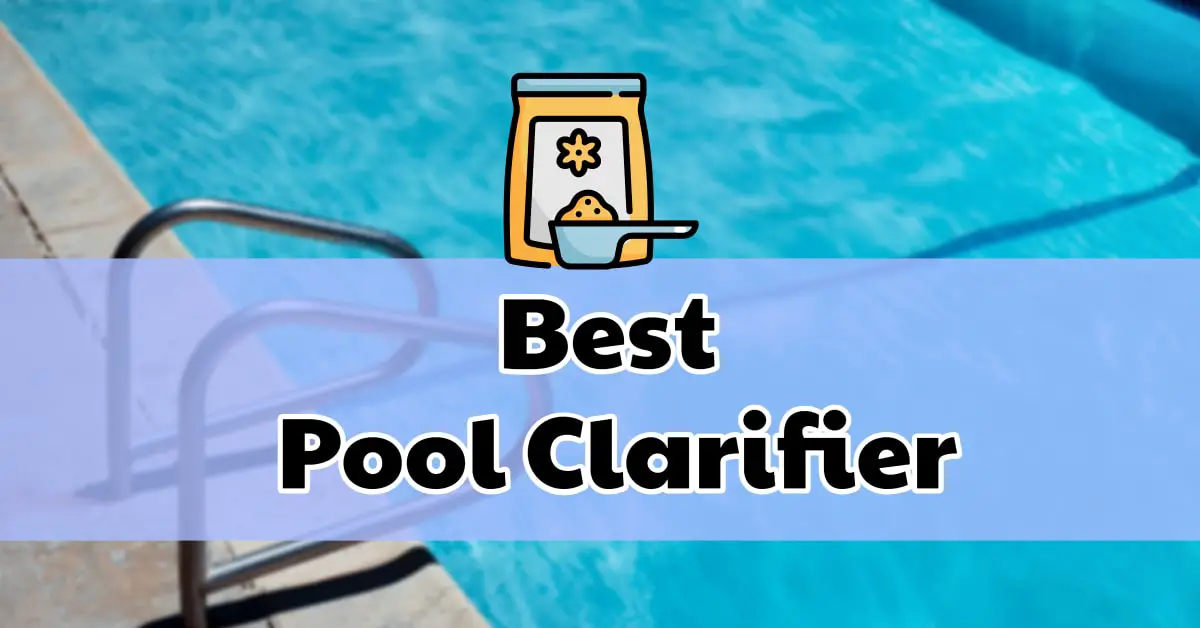 Best pool clarifier turns your cloudy pool water into crystal clear water like a magic. There are so many options available, it can be difficult to narrow down the best pool clarifier reviews and find the one that's right for you and your pool.
Best Pool Clarifier Review
In this guide, we'll discuss why your pool needs pool clarifier, how to choose the best pool clarifier for your budget and your particular swimming pool needs, and how to use your chosen clarifier to get crystal clear water in no time at all.
1. Robarb R20154 Super Blue Pool Clarifier
To keep your pool crystal clear and looking fresh, you need a good pool clarifier. The Robarb R20154 Super Blue Pool Clarifier does just that and more. You only need to add small amounts of Robarb R20154 Super Blue every time you swim or use your pool and by doing so, it can handle up to 10,000 gallons of water.
Another high performer was Robarb's Super Blue Clarifier, which transformed hazy, muddy pool water into completely clear, swimmable water. You may receive a large discount on the per-unit pricing if you buy this clarifier in bulk, which we believe makes it the greatest pool clarifier for the money.
It effectively removed all particles and debris from our pool water while preventing the filter from becoming clogged. It's also simple to use because it can handle a wide range of temperatures and chemicals. We didn't even need to update or add anything to our present chemical selection.
However, it takes roughly 12 hours for this clarifier to start working, and even longer for your pool water to clear.
Whether you want a pool with zero turbidity (zero haze) or one with a very low TDS, you'll be able to achieve both effectively with the help of this Clarifier.
Pros
Compatible with other chemicals
Works effectively in wide range of temperatures
Huge discount available for bulk purchase 
Doesn't choke filter
Cons
Takes around 12 hours to work
2. Tidal Vision Crystal Clarity Pool Clarifier
This pool clarifier has a natural formula that removes algae, metals, and minerals from your water. It's also nontoxic and biodegradable, so it won't hurt your pets or kids if they ingest some of it. Container comes in 30 ounces packing size, it's more cost-effective than other products on our list.
This was one of the more concentrated and powerful pool clarifiers I tried. It works swiftly, and you began to see benefits within only a few hours.
Our once hazy pool was crystal clear and looked as welcoming as we'd ever seen it after around eight hours.
However, if you use too much of this clarifier, the water may become green, so be sure to read the instructions carefully. The Tidal Vision Pool Clarifier is our one of the top suggestions because to its quick and effective performance combined with a reasonable pricing.
Unlike some similar products on our list, which can take anywhere from several hours to several days before they start working well enough to notice results, Tidal Vision starts working instantly upon contact with your water.
Pros
Non-toxic
Biodegradable & environment friendly
Cost effective product
Instant working functionality 
3. SeaKlear SKP-C-G Natural Clarifier
Sale
SeaKlear is easy to use and proven effective. It's compatible with all pool types and keeps water clear without harsh chemicals. It doesn't cause stains or odor problems and has a longer-lasting formula than most other clarifiers on the market.
When it comes to clarifying the water in your pool, this clarifier may be used extensively. You don't have to worry about overdoing it because it can't be overdosed. Furthermore, this product comes in gallon containers. This is practical, but it is also costly.
You won't be able to obtain it in a smaller size like most of these goods, which come in one-quart bottles. However, when you consider the price per dosage, it's one of the most cost-effective clarifiers on the market.
It's an excellent option for organically clearing hazy pool water, but there are alternative solutions that won't set you back as much.
This product works best when it's added to a pool that hasn't had calcium or other minerals build up for over six months.
Simply mix one packet with 50 gallons of water to create a natural, cost-effective pool clarifier. You can also add multiple packets if your water needs more work; but keep in mind that you should never exceed four packets per 50 gallons of water at any time.
Pros
Available in gallon container
Made from recyclable material
Long-lasting effect
Avoid overdose
Cons
Little bit expensive
Not available in small packaging
4. Clorox Pool & Spa Clarifier 58232CLX
According to our experience, it's quite effective and turned cloudy pool water into nice, clear water. You'll need to have the pH right if you want this product to work best.
If you applied the pool water and it wasn't pH adjusted before use, the water in your pool wasn't as clear as it could be.
In order to make the water as clear as possible, we needed to use a higher dosage than the instructions suggested. Therefore, Clorox Pool & Spa Super Water Clarifier will not be in my top three recommendations, so we'll save a spot for it in the bottom three of the list.
This acid-free formula will not stain your pool's surface or cause corrosion. For a clean environment all season long, use Clorox Pool&Spa super water clarifiers. They are easy to use and fast acting at 1/2-lb per 10,000 gallons of water each day for five days straight. No pre-dissolving required.
Pros
Budget friendly
Clear cloudy and milky water 
Cons
More dosage required than recommended
pH must be maintained to work
5. Rx Clear Super Strength Pool Clarifier
If you need a pool clarifier with serious strength, Rx Clear is where it's at. Users say that even after opening a bag and walking away for 20 minutes to let it do its job, there's still plenty of solution left to clean their pool thoroughly.
For obvious reasons, though, it's best to follow up with your filter and brush as usual. If you have an extremely large pool or one that's heavily used, expect to purchase a few bags at once—otherwise, you may be looking at restocking more frequently than other products on our list require.
The Rx Clear pool clarifier is one of the more expensive options I tested. You can save money, though, by purchasing it in bulk up to 12 bottles at a time. Bought this way, it's one of the more cost-effective clarifiers available. But for a lower price, other options will produce a comparable outcome.
Pros
Instant working formula
Available in cheap for bulk purchase
Cons
Required more dosage than recommended
6. hth 67012 Pool Clarifier
The best thing about hth 67012 is that it treats your water for up to four weeks—which means no more dealing with cloudy water during swimming season!
If you're looking for a quick, cheap fix to cloudy and milky pool water, the HTH Super Pool Clarifier is an affordable choice. Though it was on the inexpensive side, we do recommend this product.
The pool we used it on was super hazy and dirty after being opened for the season with a strong shock treatment.
Heeding the instructions for the HTH Super Clarifier, it took more than 24 hours, but after that our pool was free of impurities.
The HTH Clarifier works best at a higher dosage and it's also not as simple to use as other brands. Thus, a bottle won't last as long. You need to dilute part of it in a bucket of pool water first, and then spread it around the edge of the pool. Following the instructions worked well for us, but we had similar results with other products that didn't require as much work up front.
Each dose of hth 67012 treats between 25,000 and 50,000 gallons of water. It's suitable for both above-ground and in-ground pools. And it's simple to use – Just attach it to your skimmer basket and allow it to treat your water for four weeks—or until your pool loses its murky color.
Pros
Extremely cheap
Clears cloudy & milky water
Suitable for above and in-ground pool
Cons
Requires 24 hours to work
More dosage required than recommended
More manual work required
7. Ahh-Some- 11006 Swimming Pool Clarifier
The Ahh-Some Swimming Pool Clarifier is different from other pool-cleaning products I've used during testing.
It's a gel rather than a liquid or a tablet like the other clarifiers tested.
To make the gelatin into the water, it just needs to be put in pool. When you do, it begins to work right away. It can be even be used to clean a hot tub or the pipes that make up your pool filter plumbing system.
The downside to this product is that it's too expensive for the small container it comes in. One ounce is needed for every 3,000 gallons of water in your pool, so this small bottle will last your average-sized pool. 
You are not only paying more, but getting way less and using more in order to achieve similar results. It's effective, but not as effective as other clarifiers for less money.
Pros
Gel type clarifier
Instantly working
Cons
Expensive product
Not as effective as other clarifiers
What is a Pool Clarifier?
A pool clarifier is a chemical compound that's used to eliminate cloudy water from your swimming pool. While there are many different types of clarifiers available, not all work equally well; each type works best under certain conditions and may be ineffective or even dangerous if you don't use it correctly.
For instance, copper-based clarifiers are best for pools with low pH levels, while polymers are effective at raising pH levels. Some professionals recommend using multiple clarifiers concurrently in order to make sure they can clear out all kinds of cloudiness; when doing so, consider using varying durations as some more effectively clear different kinds of particulates than others.
How To Use Pool Clarifier?
In order to keep your pool water crystal clear, you must add a pool clarifier. The purpose of a swimming pool clarifier is to remove non-living particles and solid matter from your pool water, making it sparkle!
But not all swimming pool clarifiers are created equal. We will help you sort through all of your options so that you can find exactly what you need for that beautiful blue colored water! 
Calculate the volume of pool water:
You'll also need to know the size of your pool to make sure you're using the right amount of clarifier. If you don't know how big your pool is, you may use online Pool Calculator either on your computer or as a mobile app for iOS and Android – to easily figure it out.
Check the pH balance:
It is very important to check the pH of your pool water. It should be between 7.4 and 7.6 to get effective result. If not maintained, first maintain it before using clarifier.
Remove algae if present:
Please keep in mind that clarifier can't remove any type of algae. If you notice any algae growth in your swimming pool then remove it before using clarifier.
Add clarifier as per direction: 
Carefully, read all the instruction mentioned on the packaging of the clarifier and follow the exact steps to get the best result.
Run filter till water is clear:
After adding the clarifier to your pool, switch on the pool filter and run it continuously until the cloudiness is gone. This can take up to two to three days, however swimming in the pool is safe after around 20 minutes. 
Conclusion:
I set out to test as many clarifiers as possible in order to determine the best effective ones available. I created evaluations comparing them along the way, which helped me narrow down my best picks.
The best pool clarifier I chose as the best overall and value for money product is Robarb R20154 Super Blue Pool Clarifier.
FAQs: Best Pool Clarifier
What Does Pool Clarifier Do?
Clarifiers work by coagulating tiny trash particles into larger particles that may then be removed from the pool water by the pool filtration system.
When To Add Clarifier To Pool?
Pool clarifiers aren't meant to be used all season, but they can come in handy when the pool is first opened, after an algae bloom, or when dealing with hazy or cloudy pool water.