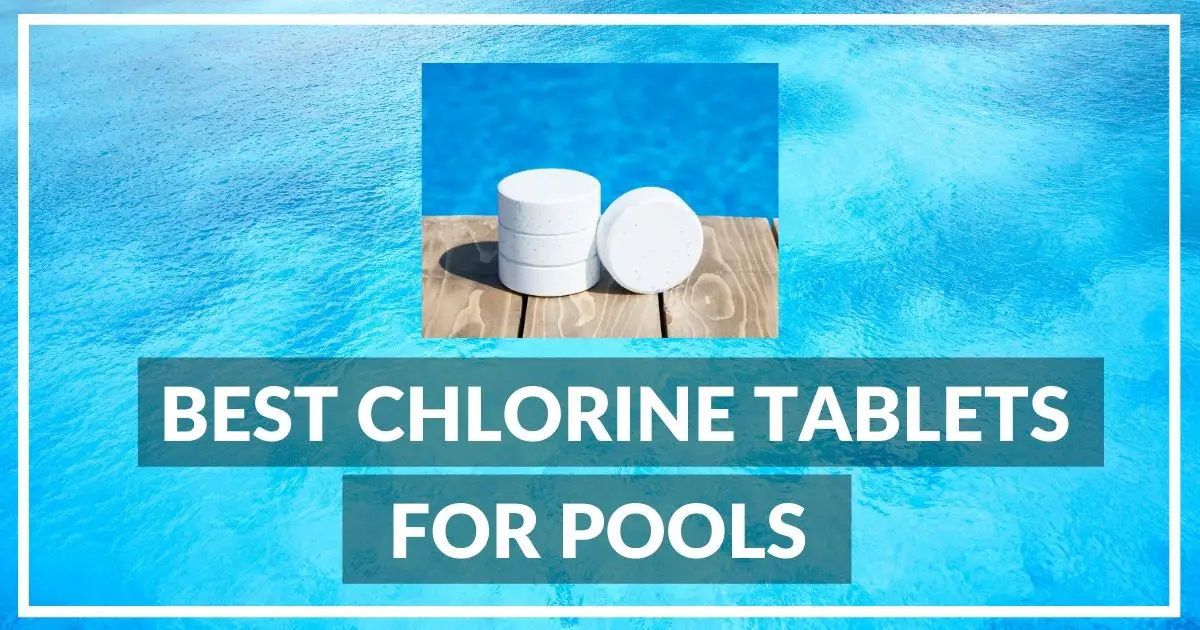 Best chlorine tablets for pools is the super handy chemical cleaning solution to make your pool free from biological organisms like bacteria, protozoa, etc.
One of the most important and critical aspects for pools is to maintain a chemical balance between algaecide, sanitizers & other chemical cleaning solutions.
Finding the chlorine tablets for the pools can be difficult and time-consuming. We have done all the research for you, so choosing the best chlorine tablets that you can trust should be easy and put time back into your day.
I am confident that at least one of my recommendations will effectively meet your needs, and put your worries to rest.
Best Chlorine Tablets For Pools Reviews
Are you looking for the best chlorine tablets for above-ground pools, the best chlorine tablets for a small pool, the best chlorine tablets for swimming pools, or the best chlorine tablets for Intex pool then this is the perfect guide that covers all aspects related to chlorine tablets.
1. CLOROX Pool & Spa XtraBlue 3-Inch Tablet
Clorox chlorinating tablets are a budget-friendly product that offers a long-lasting effect with a UV-stabilization feature. It is suitable for almost all types of chlorine dispensers.
It contains 99% active Trichloro-s-triazinetrione that can improve the condition of your pool. Make sure that you don't touch the tablets while using them to avoid skin irritations.
This product comes in four different sizes 5-pound, 12-pound, 25-pound, and 35-pound.
Pros
Slow dissolving & long-lasting effect
UV stabilized product
It doesn't corrode or stain surfaces
Suitable to use with feeder, floater & skimmers
Cons
Sometimes it contains broken pieces or become powdered
2. HTH 42037 Super 3″ Chlorinating Tablets
HTH Super 3" Chlorinating tablets keep your swimming pool clean and clear with a 4-in-1 formula that sanitizes pool water and protects against chlorine loss due to sun exposure. This formula includes built-in algae protection and a clarifier for an amazing value in DIY pool care.
You should apply tablets to feeders, floaters, or the skimmer basket, by adding 1 tablet for every 10,000 gallons of pool water. HTH 3" tablets dissolve slowly and last up to one week.
HTH Chlorinating tablets are great for vinyl-lined pools and saltwater pool systems.
Pros
Long-lasting effect 
Lasts up to one week
Built-in algae protection
Suitable to use with feeder, floater & skimmers
Cons
Sometimes it contains broken pieces or become powdered
3. In The Swim 3″ Pool Chlorine Tablets
In the swim, the 3-inch chlorine tablet is thicker than other pool chlorine tablets, so it dissolves more slowly and protects the pool water longer.
In addition, the 3-inch chlorine tablet is the perfect size for floaters and feeders. These industry-leading chlorine tabs have 90% stabilized chlorine and have long-lasting disinfecting power. Floater or feeder.
These industry-leading chlorine tabs have 90% stabilized chlorine and have long-lasting disinfecting power.
Pros
Long-lasting effect
Superb absorption rate
Excellent Performence
Tablets individually wrapped
Cons
Carefully handle this product
4. Rx Clear 3-Inch Chlorine Tablets
Rx Clear tablets contain  90% chlorine and 99% Trichloro-s-triazinetrione that provide superb performance to disinfect your pool. Additionally, it doesn't cause bleaching or stain on the liner.
The best thing about this product is that each tablet is individually wrapped which provides additional protection. These tablets have a longer shelf life. It doesn't disturb the pH of your pool water. Furthermore, It is a UV-Stabilized product.
Pros
Reputable brand
Super easy to use
long-lasting effect
Very well packed 
5. Clorox Pool&Spa Small Pool 1″ Chlorinating Tablets
Clorox pool chlorine tablets are designed for swimming pools that contain 5000 gallons or less water. You can use these tablets with a floater since it is not designed to use with the skimmer.
It lasts long even in the presence of sun-light & is capable to keep your pool safe from algae & microbiological growth. It is a value for money product & has a medium absorption rate.
It comes in an airtight sealed container but they aren't individually wrapped. You should use gloves & a mask while using these tablets. They are somewhat crumbly.
Pros
Value for money product
Suitable for small pools & tubs
Slow absorption rate
Sunlight resistant
Cons
Not suitable for skimmers
Crumbles easily
6. Doheny's 3 Inch Swimming Pool Chlorine Tablets
The Doheny's Pool Care Chlorine tablets are another preferred choice for large pool owners & It is also an EPA-approved product.
These tablets are packed in bucket packaging & available in different sizes. The bucket packaging can effectively preserve the chlorine tablets. You can also easily open & close the bucket package.
Doheny's pool chlorine tablets are highly concentrated, UV stabilized & highly effective that provide superb performance. These tablets are suitable for most chlorinators & floaters.
Pros
EPA approved product
High concentrated & UV stabilized product
Individually wrapped tablets
Compatible with many pool types
Cons
Crumbles easily near to expiry date
Doesn't have consistent strength
7. Pool Season 3″ Chlorine Tablets
Pool season chlorine tablet contains 90% stabilized chlorine for long-lasting disinfectant power. 3-inch chlorine tablets from The pool season are thicker than other pool chlorine tablets, so they dissolve more slowly and can protect your pool water longer.
Also, the 3-inch chlorine tablets are the ideal size for floaters and automatic chlorinators. Only 1-2 tablets are required to treat 10000 gallons of pool water with chlorine.
The tablets come in a waterproof bucket and each tablet is wrapped individually and put in a separate plastic bag for better protection.
Pros
Super protective packing
Dissolve uniformly & slowly
A stabilized form of chlorine
Perfect for feeders, skimmers & chlorinators
Buyer's Guide- Best Chlorine Tablets for Pools
Picking the right product as per the appropriate application will give you great results and make your pool clean & healthy.
I mention the major three things that you need to consider when you buy chlorine tablets for your pool in this section.
Chlorine Tablet Types:
As discussed earlier, stabilized chlorine tablets maintain a consistent level of pH & chlorine in the pool. It is suitable for outdoor pools.
The unstabilized chlorine tablets give quick results but the effectiveness deteriorates in the presence of heat and sunlight.
Tablet Size & Dosage:
There are different types of chlorine tablets available in the market but the most common size is 3 inches & 1 inch. The size you should choose depends on the volume of the pool and the size & type of dispenser.
You can get the information on how many chlorine tablets required as per the gallons of water on the label of the product provided by the manufacturer.
Tablet Packaging:
You regularly require chlorine tablets for your pool so you should choose a bigger packing size to save your money & time. On the other hand probability of broken tablets is increased with the bigger size. In this case, if you have enough storage facility available then buy a small or medium-size package.
Always try to pick a package that comes with a child lock facility.
Percentage of Chlorine:
Trichlor-based chlorine tablets contain 90% of active chlorine. It means you require a small quantity to chlorinate your pool. Some product contains cyanuric acid additive means, it will last longer in the sun-light. 
How to Use Pool Chlorine Tablets?
Basically, there are four ways to add chlorine tablets to your pool. Let's discuss each of them in detail.
1. Directly Sprinkle Tabs into The Pool
As the name suggests you can directly sprinkle the tablet across your pool. Before sprinkling the chlorine tablets, you should calculate the required quantity according to the volume of your pool water. 
As per the thumb rule, One chlorine tablet is required for 5K gallons of pool water volume, and for better clarification please read the manufacturer's instructions. You should also take some safety precautions while sprinkling like wearing gloves and goggles to protect your skin & eyes.
After sprinkling the chlorine tablets start the circulation of pool water and leave it to spread evenly.
However, This is not the best approach to add chlorine tabs to water because it has some limitations like chlorine may not spread evenly across the pool so that you can't get the exact concentration of chlorine in your pool.
2. Chemical Dispenser Method
You can also dose the chlorine tabs to your swimming pool using a chemical dispenser of a floater. Simply open the floater and add the chlorine tablets to it. Leave the floater to the pool and wait until the tablets dissolve.
The limitations of this method are if the dispenser is stuck on one side of the pool then the remaining part of the pool is left ineffective. In addition to that dispenser doesn't allow water to pass through it so the proper distribution of chlorine isn't possible.
3. Using Skimmers
First, start the water circulation for about 10-15 minutes using a pool pump to clean the water circulation lines.
Add the chlorine tablets to the skimmer. The filter works to quickly move the water over the tap to dissolve it slowly. The skimmer carries the dissolved chlorine tab through a return jet, allowing the chlorine to spread evenly throughout the pool.
Finally, Cover the skimmer & allow it to run for at least 2-3 hours for proper mixing & circulation. Take out the container after turning off the pump.
4. Automatic Chlorinator System
This is the best and most effective method to add chlorine tablets to pools. As the name suggests automatic pool chlorinator automatically dispenses chlorine into your pool water as per the requirement.
You only need to set the desired ppm in the chlorinator & it does the rest for you to maintain the chlorine level in the pool.
Benefits of Chlorine Tablets for Pools:
In this section, I will cover the benefits of chlorine tablets against liquids and other types of chlorine-based cleaners.
Chlorine tablets come in nice big size packaging so that it will last up to the entire season. You don't need to spend your money to keep buying other chlorine-based cleaners regularly.
You don't need to manually sprinkle liquid or powder-based cleaners to all-around your pool. Just, drop the chlorine tablets using pool pumps and it will automatically spread around the pool.
Chlorine tablets are super easy to measure. You don't need to weigh or mix with other cleaning chemicals. Drop the right numbers of tablets to the pool which is recommended by the manufacturer.
Types of Chlorine Tablets for Pools:
Chlorine is a strong oxidizer and highly reactive chemical. There are two forms of chlorine tablets available in the market namely stabilized & unstabilized.
In this section, I will cover the advantage, disadvantages & differences between them.
Stabilized Chlorine Tablets:
In the presence of sunlight UV rays reach the pool and water heats up so the chlorine is dissolved quickly. 
As an effect, you can notice the drop in chlorine level. You need to add more chlorine to maintain the desired level of chlorine & ultimately it costs you more money.
To get rid of this issue, Most manufacturers add stabilizers to stabilize the chlorine tablets. Stabilizers slow down the dissolving rate of chlorine also in the presence of sunlight.
On the other hand, a high level of stabilizers makes the sanitization process slower than desired. It is the best solution when you want to maintain steady pH & chlorine levels in the pool.
Stabilized tablets have a long-lasting effect than unstabilized chlorine tablets. It is the perfect solution for outdoor pools.
Unstabilized Chlorine Tablets:
Unstabilized chlorine tablets are exactly the opposite of stabilized ones. Due to the absence of stabilizers, it will be dissolved faster in pool water.
In the presence of sunlight, the efficiency of unstabilized chlorine tablets deteriorates. Now, the question is why should I use them?
Unstabilized tablets are a good solution for indoor pools where you apply all routine treatments to make your pool clean from contaminants. You can get quick and effective results in no time.
FAQs
Is it better to use chlorine tablets or granules?
Yes, tablets are better because granules are less concentrated around 60% while tablets are 90% Granules are also do not providing better consistency.
How many 1-inch chlorine tablets per 1000 gallons pool?
Normally, one chlorine tablet is sufficient to chlorinate 1000 gallons of the pool
How long do chlorine tablets last in a pool?
As a general rule, Stabilized chlorine tablets(trichlor-based) last around 2-3 days.
How long after putting chlorine in a pool can you swim?
After 30 minutes, you can swim in the pool.