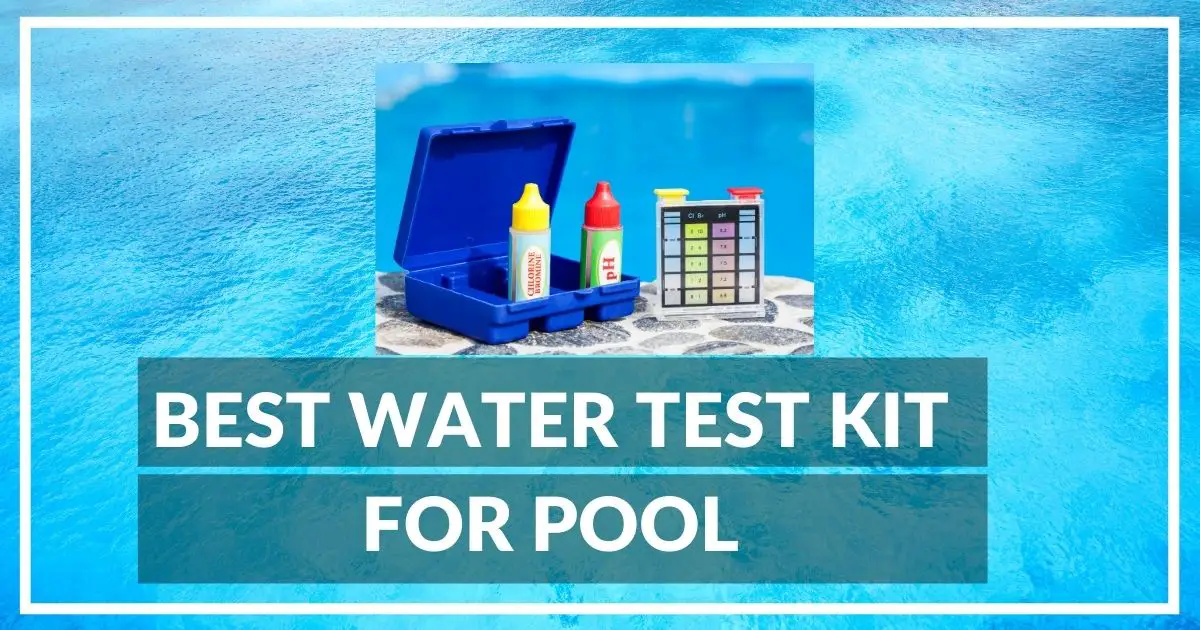 Do you want to keep your pool clean & safe? If your answer is yes then the best water test kit for pool is the perfect solution for you.
As a responsible pool owner, it is your duty to check the pool water quality regularly.
Finding the best pool water testing kit can be difficult and time-consuming. I have done all the research for you so that you can pick the perfect test kit for pool water with ease. I am confident that at least one of our recommendations will effectively meet your needs, and put your worries to rest.
Below is a quick list of all our top products. Keep scrolling to learn more about how to choose and use the best pool water test kits.
| Image | Product | Feature | Price |
| --- | --- | --- | --- |
| Top pick | Poolmaster Test Kit | 5 Way Test Kit, Properly Sealed Solutions With Caps, Clear View Round Test Blocks | Check On Amazon |
| Runner up | Blue Devil Test Kit | 5 Way Testing, Easy to Use, Compact Storage | Check On Amazon |
| budget pick | JED Pool Test Kit | Two Way OTO, High-Quality Product, Easy to Use | Check On Amazon |
| BEST DIGITAL TEST KIT | LaMotte 2056 ColorQ Pro 7 Digital Pool Water Test Kit | Digital Pool Water Test Kit, Water Resistant, Tests 7 Important Parameters | Check On Amazon |
| | Taylor Basic Residential DPD Pool Test Kit | Included Reagents For 100 Tests,  Comes with Water Proof Instruction Card, Best For Residential Pools & Spa | Check On Amazon |
Best Water Test Kit For Pool Review
1. Poolmaster 5-Way Test Kit
Many pool owners love the Poolmaster 22270 because it is cheap compared to other brands. Don't be fooled by incredible prices. It still gives you the exact figures you need to maintain the chemistry of your pool water.
The device uses color to give readings, but it gives you easy-to-read results, so you don't worry about accuracy. The kit also comes with a transparent round test block with an amazing color lid for each solution. With its complete package and effective performance, I can say it's worth trying the Poolmaster 22270.
2. Blue devil 5 Way Test Kit
Each solution bottle in the Blue Devil 5-Way Pull Test Kit is ½ oz. and can be used to test water frequently throughout the year. If you thoroughly study the instructions, you don't have to guess the results of these tests a second time.
Both color comparators and test vials are easy to use and read, and incorporate a bright color gamut in translucent plastic. All test components in this kit are housed in a large case made of plastic for easy access by the user.
3. JED Pool Test Kit
This full test kit from the Jed Pool Tools brand is dual OTO, so the price is quite low compared to the average level in the market. Nevertheless, this kit offers tests for 3 essential elements of pool water including pH, bromine, and total chlorine.
Each reagent bottle of this full test kt needs 4 drops for testing, there are about 100 drops per bottle. The translucent plastic tester is ideal for marking a range of colors after testing pool water. The storage case is compact for easy carrying.
4. LaMotte ColorQ Pro 7 Digital Test Kit
LaMotte 2056 digital test kit comes with photometer that provides digital reading so that you don't need to compare the color to get the results. Dual optic construction of photometer gives you fast & accurate results.
Digital photometer feature of this test kit makes it stands out from other pool water test kit available in the market. You can test pH, Alkalinity, total chlorine, free chlorine, bromine, cynuric acid & calcium hardness with this test kit.
It also comes with water resistant housing & carrying case. A carrying case is very helpful to carry the test kit & stay organized.
5. Taylor Residential DPD Pool Test Kit
When it comes to water testing in your home swimming pool, the Taylor K1001 unit is a basic DPD swimming pool test kit that provides quick results in a few simple steps. The comparator contains a shaped fill line that is not complicated to read the color change displayed.
On the back of the instruction card is a useful dosage chart that will help you find the right treatment for your pool water with this translation. It has a small but rigid case that can handle three bottles of reagents that test for pH, chlorine, and bromine.
Buyer's Guide- Best Pool Water Test Kit
In this guide, I will share with you some of the very important criteria that you need to consider before purchasing any pool water test kit.
Number of Tests
Most of the pool water test kits have a facility to test between 3 to 11 tests. More the number of tests better the pool water chemistry. 
You should look for the test kit that doesn't miss the important tests like pH, Chlorine, and alkalinity of the pool water.
It would be an added advantage if the test kit provides you the testing facility for Iron, copper, cyanuric acid & calcium hardness tests. 
Generally, digital test kits offer you more tests than manual test kits.  
Consistency & Accuracy of Test Results: 
Accurate & consistent results are very essential to maintain chemical levels in the pool. If you aren't getting accurate results then ultimately it will cost you more money.
You're using expensive chemicals to maintain the chemical level in your pool water. In this case, one inaccurate result misguides you and waste your chemical.
Always invest your money in the test kits that provide you accurate & consistent results.
Easy to Use:
Maintaining pool water is a tedious task. Easy to use pool water test kit makes your task super easy. Test strips are the simplest way to test the pool water while the liquid test kits require 10-15 to test the pool water.
Digital testers are the simplest way to test pool water. Here, you don't require to compare the colors.
Well Designed:
Finally, you need to think about the design. I love keeping things organized, and many of these products come with cases that you can easily pack when you're done.
It's sturdy and sturdy, so you don't want the pieces to break apart or fall into the pool during sample collection. You won't want to go fishing, especially in winter.
Good design also means that it is intuitive and easy to use. I don't like spreading hundreds in front of me while squatting by the pool. Find a well-designed kit that is hassle-free to use.
Sealed Bottle Caps
Pool water test kit that uses chemical which is hazardous so that each reagent bottle solution should come with tight & secure lid.
It could be dangerous if the solution spill and leaves on your skin. Always handle the reagent bottle with care. After using the test kit tightly close the cap of the reagent bottles. Keep it away from the reach of children.
Types of Pool Water Test Kits
There are 3 types of pool water testing kits available in the market are strips, liquid & digital kits. I will explain each of them in brief including the pros & cons in this section.
Strips:
Strips are super easy to use. You don't need to take the pool water sample to test it.
Just deep the test strip into the pool water to test it & get the result. To read the result simply, compare the developed color with color chart provided with the kit. 
However, the results of the strips are not accurate as compared to liquid & digital pool testing kits.
You have to store & use the strips carefully because it is contaminated easily. It can't give accurate results after their expiry.
Pros:
Super easy to use
Gives faster results
Provide fairly accrate results when you use it correctly
Cons:
easily contaminated even by touching or in presence of moisture
It has expiry
Liquid
As the name suggest liquid testing kits uses liquid reagents which comes in dropper type reagent bottles.
To test the pool water take the water sample in the test vial provided with the test kit and add the reagents using dropper bottle as per the instruction guide of liquid test kit.
This is also an easy to use & less time consuming method.
Pros:
Gives very accurate results
Easy to use
Cons: 
Provide inaccurate results if you made mistake in adding reagents
Little bit time consuming process
It has expiry 
gital Tester
Digital testers provide the results digitally on the screen. You only need to add reagents to test the pool water and you'll directly get the results on the display of the digital tester.
Pros:
Easy to use
Gives accurate results
Displays the results on the screen
Cons:
More expensive
Periodic calibration required to work properly
How Often Should You Test Your Pool Water?
This is the most common question which confuses people so I will try to clear all of your doubts regarding how often pool water testing is required.
Please note that there are some of the parameters that are very stable & you don't need to test them daily. 
I will share with you the simple guideline of each testing parameter & required testing frequency.
pH – Daily
Chlorine – Daily
Alkalinity – Weekly
Temperature – Weekly
Calcium Hardness – Monthly
Stabilizer – Monthly
Always follow the above-mentioned pool water test schedule.
Once you know the chemical composition of your pool water, you can reduce the testing frequency of pH & chlorine from daily to weekly. This is in case of cool weather and everything is working fine.
Stick with the daily testing frequency in case of hot weather, after rain, the pool used on a daily basis, or water doesn't look good.  
How to Use a Pool Water Test Kit?
The first and the most important thing you need to keep in your mind while using the pool water testing kit is
keep it out from the reach of children
replace all the reagent solutions before their expiry.
Store all the reagents in a dry place
Test Procedure:
1. Take the pool water in the test tube provided with the kit.
Dip the plastic test vial into the pool and collect the sample from at least 18 inches depth. Collecting the sample directly from the surface of the pool may not provide accurate results.
Make sure that the sample is filled up to the mark provided in the test vial. Proper sample volume is very important for accurate analysis.
Add the required quantity of reagents using a dropper bottle as specified in the test kit. Swirl the solution for proper mixing, reaction & color development.
Finally, Compare the color with the standard color comparator of the test kit and read the result.
Let's talk about some popular pool water test methods in brief.
2. Chlorine Test of Pool Water
To test the chlorine add the drops of chlorine test reagents mentioned in the kit. Normally, the Orthotolidin chemical solution provided in the kit for testing of chlorine in the water.
In some test kits, tablets are provided instead of liquid reagents to test the chlorine.
Cap the vial and invert it gently for proper mixing of the reagent with the sample & wait for a few minutes to develop the color.
Finally, Compare the color with the comparator provided with the test kit & note down the result of residual chlorine.
3. pH Test of Pool Water
Take the sample of pool water after properly rinsing the test tube. Add the drops of sodium thiosulfate based reagent to neutralize the residual chlorine present in the water because chlorine will interfere in pH test and gives an inaccurate result.
After neutralizing the chlorine add the second reagent, this will develop the color according to the pH of the pool water. Match the color with the color comparator provided with the test kit.
4. Alkalinity Test of Pool Water
Alkalinity is a simple acid-base titration method. Total Alkalinity represents the acid neutralization capacity of water.
Take the pool water sample in a clean test tube. Add drops of indicator solution provided in the kit and then dropwise add acidic solution till the color changes from yellow to orange.
Count the number of drops you added and calculate the total alkalinity of pool water as per the calculation provided with the test kit.
Conclusion
Throughout this article, you should have acquired some very valuable knowledge with regards to the best water test kit for pool and the value they can add to your pool.
Whether you are looking for a comprehensive pool water test kit definitely you should pick Pool Master Water Test Kit & if you're looking for a digital water test kit then LaMotte ColorQ Pro 7 Digital Test Kit best fit for you.
Frequently Asked Questions(FAQs)