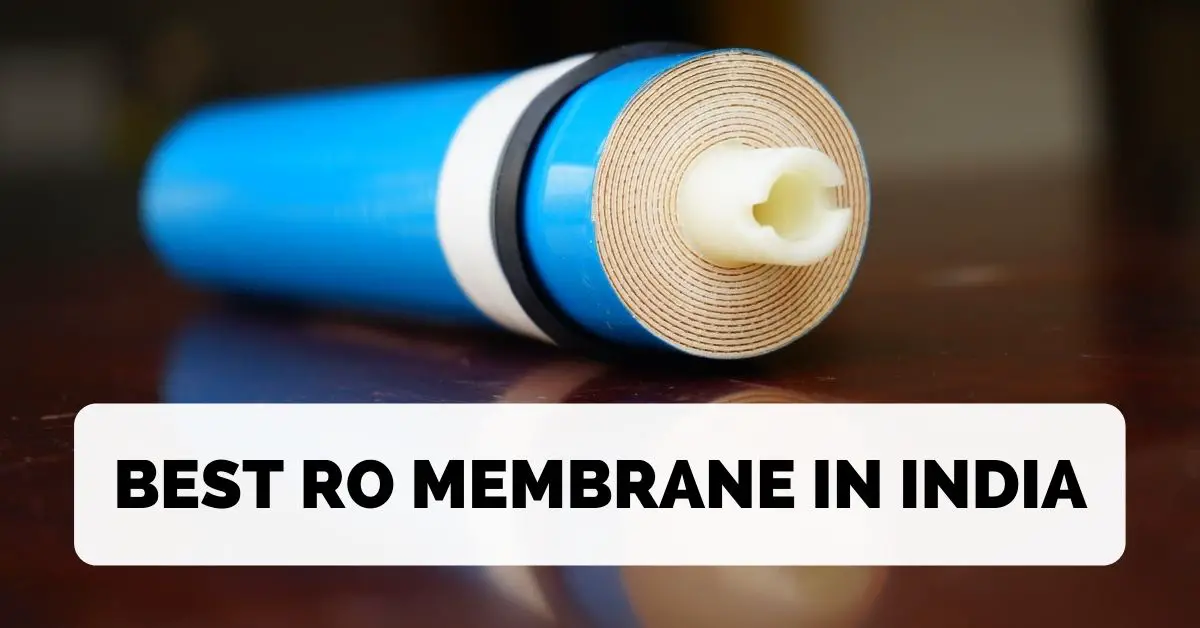 Are you looking for the best RO membrane in India? Then you're at the right place. RO membrane is the heart of any reverse osmosis system. 
Finding the right RO membrane can be difficult and time-consuming. We have done all the research for you, so choosing a RO membrane that you can trust should be easy and put time back into your day.
We're confident that at least one of our recommendations will effectively purify your drinking water, meet your needs, and put your worries to rest.
High TDS Membrane up to 3000 ppm

Made with food grade material

Long lasting product with high performance

 Suitable up to 2000 ppm TDS
Best RO Membrane in India 2020
---
1. Konvio Neer High TDS Membrane
Pros
High TDS Membrane (Upto 3000 PPM)
Made with antibacterial sheet & Food grade plastic
Value for money
Removes over 97 contaminants
Cons
Little bit pricey product
2. Vontron Membrane
Vontron Reverse Osmosis Membrane is widely used on household water purifiers, aquariums, and other small-sized commercial water purifying devices. It effectively removes the particles of heavy metals (primarily calcium and magnesium), bacterial, and any other carbonates from source water.
Product Dimensions: 32 x 8 x 8 cm
Weight: 450 gm
Pros
95-97% Rejection rate
6000 liters capacity
Economical & long-lasting product
Cons
Suitable TDS Range not mentioned
3. Wellon Gold Membrane
Pros
14 liters per hour capacity
Suitable up to 2000 ppm TDS
95% TDS Reduction
4. Aqua Dove RO Membrane
Aqua dove RO membrane is made with supreme grade material. It has the capacity to produce 100 gallons per day water means 15.77 liters per hour. It can efficiently remove Heavy Metals(primarily fluoride, calcium, magnesium, lead, colloids, chromium, and nitrates), organic, rubber mass, harmful minerals, and other soluble salts from water.
Product Dimensions : 36 x 7.5 x 7.5 cm
Weight: 380 gm
Pros
90% rejection rate
Suitable up to 1500 ppm TDS
2-3 years lifespan
Cons
Not suitable for TDS>1500 
5. CSM RO Membrane
Pros
5000 liters capacity
Suitable up to 1000 ppm TDS
WET membrane
Cons
Performance may very
Not suitable for TDS>1000 ppm 
How do I know if my RO membrane needs replacing?
Most of the RO membrane manufacturer recommends that you need to change the membrane every one or two years but that is not the case. You can easily figure out the exact time of RO membrane replacement on your own. I will share with you simple step by step calculation in this section.
Check the TDS of your RO feed or Inlet water(R1) & RO permeate(R2) water every month and note it down.
Substract the RO permeate water from RO feed water. Note down it as R3
Divide the R3 value by R1 value and multiplying it by 100. You get the rejection percentage(R) capacity of your RO membrane.
If R value is greater than 90% then you don't required to change the RO membrane. You only need to change the RO membrane when R value is less than 90%
Let's take one example to understand it clearly.
RO feed water is 500 ppm & you get the permeate water with TDS of 20. 
In this example,
R1 = 500ppm & R2 = 20 ppm
R1-R2= 500-20= 480 ppm(This is R3 value)
R3/R1= 480/500*100= 96% (This is R value)
Here, R value is greater than 90% means your RO membrane is working fine and you don't need membrane replacement.
Conclusion
When the market is filled with different filters to choose from, it can definitely be hard to find one that you like best and that works for your needs.
The Konvio Neer is the best RO membrane in India you can find, probably anywhere else. It is a perfect choice even for high TDS water up to 3000 ppm.
Frequently Asked Questions(FAQ's)
What is RO GPD?
GPD stands for gallons per day. 1 gpd is equals to 3.79 liters per day.
What is the life of RO membrane?
Normally, the RO membrane lasts up to 2 years. It depends upon the TDS & water quality of inlet water.
Can We use RO reject water?
You can use RO reject water only in some of the activities like cleaning, flushing & gardening. RO reject water contains a huge amount of impurities & hardness so you need to check suitability & compatibility with the application where you want to use it.