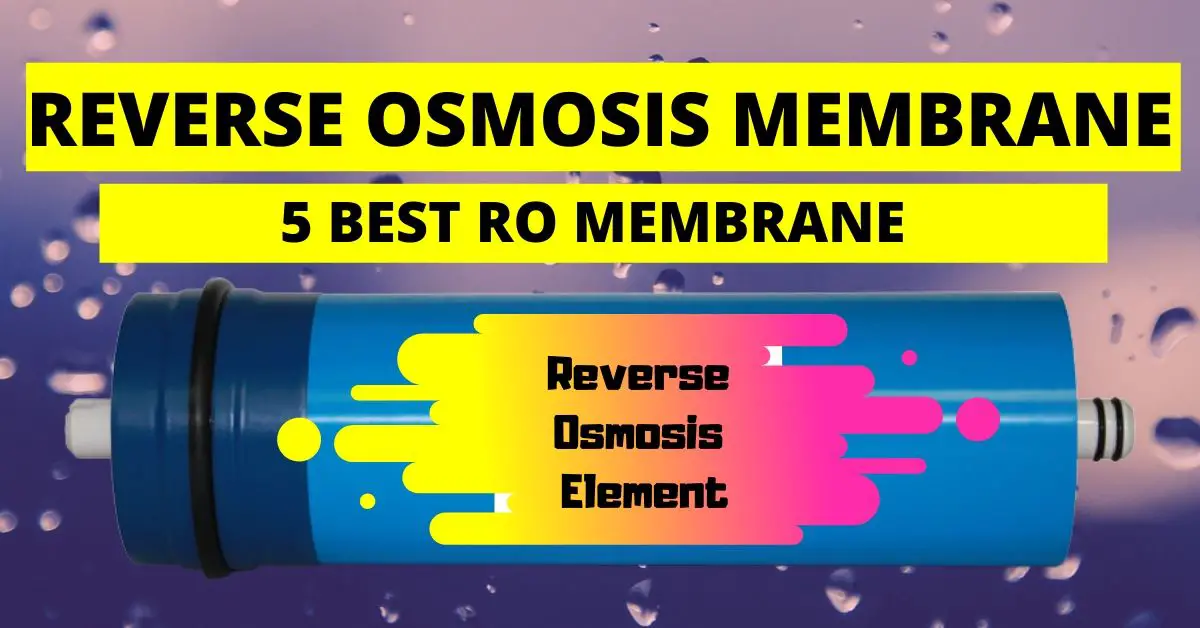 Are you looking for best RO membrane for your RO system?
Choosing the best RO membrane is such a challenging task. There are plenty of reverse osmosis membrane products are available in the market.
Don't worry.. We are here to help you.
We provide you the list of best products that can surely set you on the right track.
Basic Info About RO Membrane
Let's first understand some basics of the Reverse Osmosis membrane.
Household RO systems have generally 75 gpd or 80 gpd capacity membrane. gpd means gallons per day. This indicates the capacity of Reverse Osmosis membrane to purify water in a day.
1 gpd (gallons per day) = 3.79 liters per day
For example,
75 gpd membrane purifies 75 gallons of water per day or 284 liters of water per day.
80 gpd membrane purifies 80 gallons of water per day or 303 liters of water per day.
Suggested Read : 5 Best RO Membrane in India
Best RO Membrane List
---
1. Filmtec Residential RO Membrane
The industry's most reliable advanced membrane technology and automated fabrication, allow these elements to deliver consistent performance that equipment suppliers, water treatment dealers and residential customers can rely on.
Features:
98% stabilized salt rejection
Polyamide Thin-Film Composite
NSF/ANSI Standard 58 listed
User friendly design
Easy installation
---
2. iSprinng greatwell MC7
This Reverse Osmosis membrane is able to remove up to 99% of over 1,000 contaminants from your water, including lead (removes up to 98% of lead), chlorine, fluoride, arsenic, hormones, asbestos, calcium, sodium, and more.
Features:
Meet NSF/ANSI Standards
Suitable up to 750 ppm TDS level
Lifetime free tech support
Lasts 2-3 year
---
3. Membrane Solutions
High quality Reverse Osmosis Membrane Polyamide film composite material, rejects impurities down to 0.0001 micron. High permeated flow and stable salt rejection.
Features:
FDA Registered membrane
Safe and Non-Toxic membrane
97% stabilized salt rejection
30 days money back guarantee
Lifetime support
---
4. Simpure RO Membrane
high quality polyamide film composite material. characteristics of water saving, large water flow, high osmotic flow and stable salt rejection.
Compatible with most RO system filter replacement on the market, easy to install, no tools required.
Features:
97% stabilized salt rejection
smooth contact surface to prevent bacterial and dirt build-up.
Easy installation
lifetime friendly customer service
---
5. FS-TFC RO Membrane
 Frotec reverse osmosis membrane use high efficient 0.0001MM diameter food grade dry type TFC membrane
Universal membrane fits in most of the reverse osmosis systems.
Features:
Purified water TDS range reach 0~10PPM
WASTEWATER RATIO:(1 VS 2)
Universal Reverse Osmosis membrane
RO Membrane Installation Guide
---
How to install Reverse Osmosis Membrane?
Total Time: 10 minutes
Remove the tube from fittings & twist off and open housing cap with wrench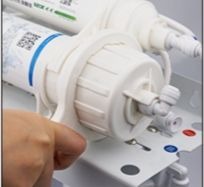 Pull out the old membrane from the housing. Use plier if required to pull out the membrane.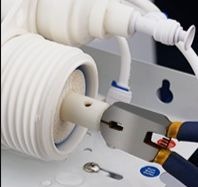 Push new membrane in the housing.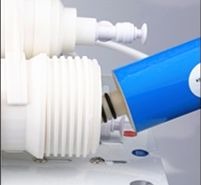 Fit the housing cap back & tighten it.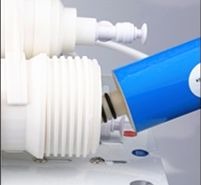 Frequently Asked Questions
---
When to Change Reverse Osmosis Membrane?
We recommend change reverse osmosis membrane every three years.
If pre-filter is working properly & TDS level of water is as per membrane specification then membrane will lasts up to 3 years.
How to increase the life of the Reverse Osmosis Membrane?
You can do three things to increase life of Reverse Osmosis membrane:
1. Change pre-filters on a regular interval. Make a schedule to change the filters.
2. Only purify the required quantity of water. Don't waste pure water.
3. Make sure input water TDS is as per membrane specification. Check the input water TDS
How to check Reverse Osmosis membrane is damaged?
Life of reverse osmosis membrane depends on four things:
1. Types of impurities present in input raw water
2. TDS level of input water
3. Healthiness of pre-filters
4. How much quantity of water you purified per day
Check the TDS of RO Purified water. If it is not reduced to the desired level or increasing trend then definitely your Reverse Osmosis membrane is damaged. You will need a TDS meter to test.
In some cases input raw water has very high TDS then also it will reduce the life of the membrane.
For example, your membrane is capable to handle 2000 ppm TDS & your feed water has 2500 TDS. In this case, your membrane life is reduced.
We recommend changing RO membrane every 3 years.
Conclusion
Out of all of these five, we like Filmtech RO Membrane which meets  NSF/ANSI Standard & gives excellent performance.